November 4, 2019 
Chutzpah: Why Israel is a Hub of Innovation and Entrepreneurship by Iban Arieli, Harper Business, 2019; ISBN 00628-83038; $18.99.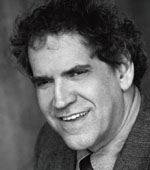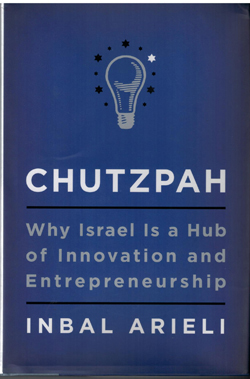 CHULA VISTA, California — The State of Israel is an amazing place. Ever wonder about the secrets behind how Israel, a tiny country with the highest concentration of start-ups per capita worldwide, is raising generations of entrepreneurs who are disrupting markets around the globe and bringing change to the world?
What factors have led to these remarkable achievements, and what secrets do Israeli tech entrepreneurs know that others can learn?
Chutzpah: Why Israel is a Hub of Innovation and Entrepreneurship by Inbal Arieli is a book for anyone interested in understanding the unique personality of Israel's creative world.
Israel is often called, the "Silicon Wadi," and ranks third in the World Economic Forum Innovation Rating. This is an amazing ranking considering the size of Israel. Arieli noted that Israel attracts more venture capital per capita than any other country on the planet. Arieli also pointed out that Israel's economic accomplishments are no fluke. Jewish tradition has long taught Jews how to question and think "outside the box."
What is it about that tiny, resourceful and creative country that explains its astounding success in technology, medicine, and the military? According to Arieli it unpredictably starts in pre-school playing with junk.
For example, in the West when children are given a new shiny toy such as a spaceship, xylophone, or what-have-you, it is not long before they turn them into junk. In Israel pre-school children are given discarded household items – junk – with which they are given free rein to transform that junk into whatever things they conjure up in their imagination. A couple of instances of that are when a discarded microwave might be converted into the control panel of an imaginary spacecraft or the broken keys of a keyboard, disassembled and turned into whatever strikes a chord, in the child's mind.
Creating from chaos. In Modern Hebrew, chaos is referred to as a balagan. Ironically, Israelis have learned that from chaos comes order, from unusableness comes use, whose application is restricted only by the limits of one's creativity and imagination. Granted, playing with junk in a chaotic environment is a recipe for potentially hazardous outcomes. Not only do Israeli children engage in, what we in the West call, 'playing with fire', they celebrate it.
While chutzpah has given generations of Israelis the courage to break away from conventional thinking, the Israeli concept of balagan really tells the story of how Israelis are taught to interact with the world. Instead of following strict rules, balagan fosters ambiguity, encouraging the development of the skills necessary for dealing with the unpredictability of life and business. Living with balagan offers Israelis the opportunity to constantly practice the soft skills defined by the World Economic Forum as the Skills for the Future, as balagan promotes creativity, problem-solving, and independence—key characteristics of successful entrepreneurs.
By revealing the unique ways in which Israelis parent, educate and acculturate, Chutzpah offers invaluable insights and proven strategies for success to aspiring entrepreneurs, parents, executives, innovators, and policymakers.
In one story, Arieli tells the story about a seventeen-year-old named Gilad from Ashdod. He describes his enrichment program:
We are given basic coding skills and then they throw at us into a deep end. We are challenged with complex assignments such as building a chess game, without instructions, in an autodidactic way. This year my group is working on a car-robot that drives according to certain calculations and knows how to scan and map the area to which it wants to go, manually and automatically.
Israel is so amazing, Asian countries send delegations to observe how and why Israelis are so driven to be successful.
One of the reasons why this book is so important for readers today is because of the BDS movement that is trying cripple the Israeli economy. "BDS" is an acronym for the Boycott, Divestment and Sanctions campaign promoting various forms of boycott against Israel until it meets what the campaign describes as Israel's obligations under international law. Surprisingly, there are a number of Jews, like Bernie Sanders, and others who are doing their best to force Israel to do their bidding. Most Americans owe a debt of gratitude for how ordinary Israelis are making our lives easier and better today.
Think about it.
Israel is always coming up with new discoveries to combat and limit the destructive effects of cancer. Israel developed the PillCam – the first pill that can be swallowed to record images of the digestive tract. The capsule contains a miniature camera that is the size and the same shape as a pill, This invention is used very widely and was an extremely significant development in the field of medicine. Israel is very close to eliminating many strands of cancer—anyone wishing to boycott Israel ought to think how this might be dangerous to one's health.
In terms of agriculture, Israel's drip irrigation systems – The huge worldwide industry of modern drip irrigation is used in California and other places around the world. Newer technologies are now creating water out of the air, and this technology is being made available throughout the driest regions of the planet. Israel has developed new agricultural technology that can keep fruit and vegetables fresher for an extra two weeks!
Arieli manages to explain the inexplicable: how Israel's difficult security situation has actually become a fertile ground for technological and economic development.
In Israel, necessity is the mother of invention.
In the final analysis, the world is a better place because of Israeli creativity. I think anyone who reads this book will learn much about the characteristics that makes Israel a culture of creativity and life.
This book gave me a new appreciation for the methodology and history of Israeli innovation. Aside from the flash drive or the cherry tomatoes that were developed in Israel, just go the Wikipedia section on Israeli innovation—you will be amazed.
*
Rabbi Michael Leo Samuel is spiritual leader of Temple Beth Shalom in Chula Vista. He may be contacted via michael.samuel@sdjewishworld.com