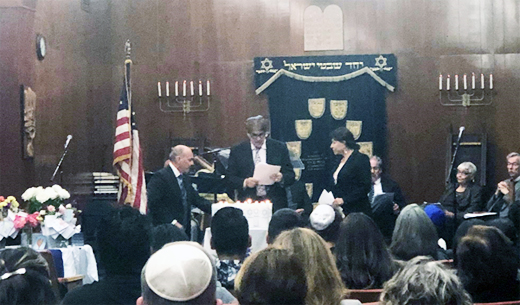 Posted on 03 November 2018.
Rabbi Samuel (center) with pastors and public officials at a memorial service for the 11 Jews slain in Pittsburgh at Shabbat services

By Rabbi Michael Leo Samuel
Rabbi Michael Leo Samuel
CHULA VISTA, California — On Thursday night, Nov. 1, almost 140 gathered at Temple Beth Shalom to participate in a special ecumenical memorial service for those murdered in last week's Shabbat service at the Tree of Life Synagogue, located in the Squirrel Hill Jewish area of Pittsburgh, Pennsylvania. As a child. I recall going with my siblings to visit family and enjoy Kosher deli there.It is hard to believe this little Jewish community should become the target of anti-Semitic attacks.
Several ministers of the local churches participated at the Beth Shalom services, including: Pastor Paul Davis of the Chula Vista Presbyterian Church, Father Thomas Wilson of St. John's Episcopal Church, Chula Vista, Pastor Victoria Freiheit of United Church of Christ of Chula Vista, Pastor Bryan Parceo, United Methodist Church of Chula Vista, Rev. Soliven Placido Fee, of Amazing Grace Church, and Pastor Iglesia Embajadores, Pentecostal Church of Chula Vista. In addition, almost the Mayor Mary Casillas Salas and her council representatives all came in a show of solidarity.
Famous ethical and inspirational remarks from Albert Schweitzer, Martin Niemöller, Dietrich Bonhoeffer, the Talmud, and Martin Buber peppered the services. Each of the clergy members shared  reflections on the tragedy.  Pastor Victoria Freiheit said, "I remember an America where we could talk to our neighbor over the back fence without getting angry if he disagreed with us. An America of mostly law-abiding citizens, where we can be civil with each other. No–more than civil–we can disagree and still be friends."
Father Thomas Wilson said, "Pray for those who died in Pittsburgh, for those who were injured, for their family and friends. Pray for the Tree of Life congregation, and all congregations who have experienced gun violence and acts of bigotry. Pray for the first responders and the health care workers and all who are ministering to those affected by this shameful act."
Pastor Iglesia Embajadores and Bryan Parceo each stressed the importance of Jews and Christians working together to create a better society where mutual acceptance is universal. Pastor Paul Davis pointed out the Pittsburgh shooting incident marks the most serious attack on the Jewish community since the inception of our country, but that such tragic events have occurred with terrible irregularity in the Christian churches and Muslim mosques. Rev. Fee said, "Declaring, 'All Jews must die!" he revealed a heart that stands opposed to God's heart. Through the prophet Isaiah, God says, "Woe to those who call evil good" (Isa. 5:20). The gunman said he was "going in," believing his action was good; but it was a cowardly and graphic display of wickedness. We Americans uphold the victims, their families, and everyone affected by this tragedy in our thoughts and prayers. We know that their lives have been changed forever."
The ministers all spoke eloquently. They also spoke the truth. The history of Jews living in Europe was always different, but not anymore.
As the organizer of the event, I decided to speak about the question God posed Cain, "Where is Abel, your brother?"
After Cain kills his brother, he attempts to cover up his crime by burying him. But later that day, God confronted Cain with one of the most important questions found in the Scriptures: Then the Lord said to Cain, "Where is your brother Abel?" The purpose of the question is not for informational purposes, but to stir Cain's guilty conscience, "to prove his soul," so that he might freely confess his crime and begin his long journey toward repentance. At first, Cain denies responsibility. He asks: Am I my brother's keeper? Perhaps the most profound Christian interpretation of this question comes from the early 19th-century Baptist preacher, C.H. Spurgeon (1834-1892), where he writes about Cain's question: "Am I my brother's keeper?"
"I put it to the consciences of many silent Christians, who have never yet made known to others what God has made known to them—How can you be clear from guilt in this matter? Do not say, "Am I my brother's keeper?" for I shall have to give you a horrible answer if you do. I shall have to say, "No, Cain, you are not your brother's keeper, but you are your brother's killer." If, by your effort you have not sought his good, by your neglect you have destroyed him."
Lutheran theologian, Dietrich Bonhoeffer used to cite the verse, "Where is Abel your brother?" whenever he engaged leaders of the Lutheran community to assist in rescuing the Jewish people from the Nazis. To his chagrin, he felt bitter over the bishops' lack of nerve. Bonhoeffer often quoted the verse, "Who will speak up for those who are voiceless?" (Proverbs 31:8). Consequently, Bonhoeffer felt compelled by God to be the voice defending the Jews in Nazi Germany—a price he ultimately paid for with his life.
Today's eleven victims also cry out for our country's suffering. Their souls cry out for healing and justice. We must do a better job of limiting people's accesses to dangerous military-style assault weapons—especially those who have a long history with mental illnesses
All the ministers pointed out each faith needs to do its part to promote a better understanding and acceptance of their neighbors. Indeed, the radicalism from the right and from the extreme left are both very dangerous. We must all work together if our great country is to grow and thrive.
One participant, Rachel Donsky, a member of Temple Beth Shalom, also spoke among after the clergy. She said, "We have reached a critical point in our human and spiritual evolution—the stakes are being raised. We are now being asked to look within ourselves for a deeper truth and a deeper understanding of that which has divided us and created a hurting and crying world. We are not faced with evil so we can endlessly suffer and be told we are victims; we are faced with evil so we can dig under the surface of our thoughts, feelings, and actions, to uncover and heal our common human pain, fear, and insecurity. The biggest mistake we make is to conclude that the threat to our existence is external and outside of our control- it is not. The darkness within us that allows us to commit violent atrocities must be brought to the light and healed . . ."
All the ministers and community participants pointed out all faiths need to do its part to promote a better understanding and acceptance of their neighbors. Acknowledging our ability to confront the inner demons we have as a nation requires courage, honesty, and faith—if there is to be community healing at the micro and macro level. Indeed, the radicalism from the right and from the extreme left are both very dangerous. We must all work together if our great country is to grow and thrive.
*
Rabbi Samuel is spiritual leader of Temple Beth Shalom.  He may be contacted via michael.samuel@sdjewishworld.com